FAQs
On occasion we may contact you if we require further information to complete your order. Our first point of contact will be email/text so please add info@CLPit.co.uk to your address book in case our emails ends up in your junk mail. If we contact you and we haven't heard from you within 3 days of us emailing we will refund your order. It is imperative that all fields in the product pages are fully completed.
Benefits of being a CLP client and Offers
Ordering your CLP labels with us has huge benefits, CLP's from just 80p per sheet. Please be aware that offers cannot be combined. If we have a special offer on, Free Shipping over £50 is automatically discounted at checkout and the specIso offer will not be applied, so it may be worth calculating what offers you the best discount before purchasing.
REPRINTS
Please note that our Reprints service has been switched off due to the volume of changes to CLP by suppliers. We may switch this back on in the future.
What information is required and why?
According to CLP Article 17, a substance and mixture classified as hazardous must bear a label including the following elements:
Name, address and telephone number of the supplier(s);
The nominal quantity of the substance or mixture in the package where this is being made available to the general public, unless this quantity is specified elsewhere on the package;
Product identifiers;
Hazard pictograms, where applicable;
The relevant signal word, where applicable;
Hazard statements, where applicable;
Appropriate precautionary statements where applicable;
A section for supplemental information, where applicable.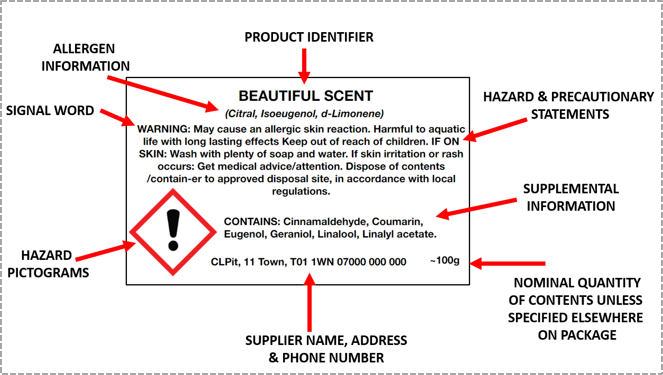 What are the benefits of signing up for a client account?
Having an account is great, you can access your previous orders at any time and you can also print off PDF copies of your invoices.
I've noticed that on occasion your website is closed, why is this?
We only have a certain amount of slots each week, depending on size of orders we may need to close the website to catch up. This should be for no more than a couple of days. Please message us for more information or see our social media pages for updates.
When will my order be delivered?
Please take note of our turnaround time on the banner above. For example, if our turnaround time is 1-2 days, we use RM First Class so worst case scenario your order could take approx. 4 days excluding weekends. We will always endeavour to beat our turnaround time. Please note day one of turnaround is the day after you order.
Why is there a minimum order quantity on label sheets?
As of 1 June 2021, minimum order of 2 sheets on CLP's has been removed.
Do you sell logo labels?
We don't, however we may look to provide these in the future
Do I require CLP labels for my products?
If your products contain oils that have been classified as hazardous then YES you require a CLP label.
I've received my CLP labels and I think one may be wrong?
As stated on our product pages we will always print what is available from your chosen oil supplier, from time to time oil suppliers may make changes to their CLP information for oils, we will do our very best to make frequent checks to ensure our files are up to date. On occasion we may find an issue with supplier CLP information and we will always bring this to their attention. CLPit will always act with integrity to ensure that our clients remain compliant.
How do I know if my chosen oils are hazardous?
Oil suppliers have CLP information on their website required for your products. Most suppliers offer the CLP information on your chosen % of fragrance required and the Safety Data Sheet (SDS) for your chosen oil.
Why do some labels state 'Safety Data Sheet available upon request'?
No need to worry, this can be down to the contents of your chosen oil. Some oils don't trigger allergens or warning pictograms based on they're contents. You will however have to have access to the Safety Data Sheet (SDS) as this may be required at a later date.
Why don't you supply Diffuser CLP labels for all fragrance oil suppliers?
We would love to be able to supply these but unfortunately some suppliers do not provide the CLP for them. We check supplier websites frequently for updates as this may change. Currently we only supply CLP labels for diffusers made in Augeo oil. This may change in the future.
Do you supply CLP labels for Room Sprays?
We supply a combined CLP/Usage for room sprays in a NON-HAZARDOUS base only. If you require a CLP only then our 10% wax melt labels will be sufficient as long as you are using a non-hazardous base. These are not suitable for products with a hazardous base such as perfumers alcohol. If you've had a bespoke CLP calculated the we will happily print your labels.
Do you supply CLP labels for Carpet Freshener?
We supply a combined CLP/Usage for carpet freshener in a NON-HAZARDOUS base. If you require a CLP only then our 10% wax melt CLP will suit your product, these come in a range of sizes. Safety & usage instructions will be required in addition which you will find on our safety labels page.
Do I need to provide CLP information if I am selling online?
CLP information should be provided at all points of sale (POS). Whether you sell from a Website, Facebook or Instagram. We will look to provide digital copies in the near future.
Where should the CLP label be placed on my products?
The CLP Regulation requires that labels are firmly affixed to one or more surfaces of the immediate container of the substance or mixture and that they must be readable horizontally when the package is set down normally.
Do I need to provide Safety Information when selling my products?
General Product Safety Regulations 2005 (GPSR). If you make, import, distribute or sell consumer products in the UK, you are responsible for making sure they are safe for consumers to use and following the legal requirements in relation to labelling. You could face action if a product is found to be unsafe or causes harm to consumers, including legal action.
If we've not been able to answer your query above please contact us here or send us an email at info@clpit.co.uk